There are 3 parts to the Wing
Upper - Often referred to as Dummettes
Middle - The Flap as it sometimes called
End - The Tips
Great wing are always complimented by great buffalo sauces. Some people prefer the drummette (tiny drumsticks) over the whole wing, but others are avid supporters of the tiny wings! No matter which one you like (we like both), or which part, you and your customers want great buffalo wing sauces for your chicken.
At Buffalo Gills we provide a wide variety of flavorful sauces to choose from. Flavors such as roasted garlic, sweet n tangy, creamy ranch and of course, the traditional favorite; buffalo sauce. No matter What flavor you like, we have your favorite!
With over 21 great choices of flavors to choose from, we have the sauce you need. We sell our buffalo sauce wholesale to distributors only, and our sauce comes by the case, four one gallon containers per case. Any first time customers will receive 10% off their first order!
Buffalo Gill's is headquartered in Baltimore, Maryland but that does not mean that sauce lovers all over the U.S. (and in Central America) cannot enjoy our products. We sell buffalo sauces direct! Contact us today if one of our numerous distributors are not near your establishment, so you or your customers can enjoy our terrific wing or Buffalo sauces as soon as possible. 1-866-535-2834.
No matter when or where, make all your customers happy, by offering the Best Wing sauce. You will be glad you did!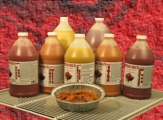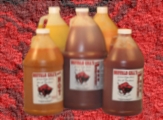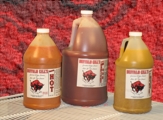 © . All Rights Reserved. Buffalo Gill's, Inc.