When offering customers chicken wings on your restaurant menu, offering buffalo chicken wings is a must! Having the option of regular chicken wings or chicken wings tossed in buffalo wing sauce is always the way to go.
At Buffalo Gills, we take pride in our gourmet buffalo wing sauce. Providing only the highest quality, best tasting homemade sauce in the United States, our wide selection of buffalo wing sauces in your restaurant will keep customers coming back for more!
Sure, there are other buffalo sauces out there that you can pick up from your local bulk store to stock your storage, but everyone knows what they taste like. Bring a new flavor to the mouths of your customers by offering a few of your favorite wing sauces from Buffalo Gills.
If you are a first time customer, we will even offer you 10% of your order. This offer is only available to retailers or distributors buying wholesale. Select and save from our 21 different mouthwatering buffalo wing sauces. With everything ranging from smokey sweet, to hot and firey you are sure to find the wing sauce that meets your customers demands.
Chicken wings aren't complete unless you add a delicious wing sauce! Contact Buffalo Gills today to order your stock of the best wing sauce in the USA!
Buffalo Gill's is headquartered in Baltimore, Maryland but that doesn't mean that sauce lovers all over the U.S. can't enjoy our products. At Buffalo Gill's, we sell wing sauces direct! Contact us today if one of our numerous distributors aren't near your establishment so you or your customers can enjoy our homemade wing or BBQ sauces as soon as possible. 1-866-535-2834.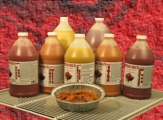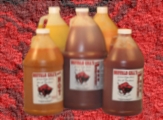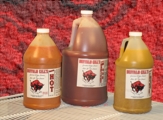 © . All Rights Reserved. Buffalo Gill's, Inc.