You can't call yourself a wing sauce connoisseur if you haven't tried our 21 flavors of gourmet wing or bar-b-que sauces yet! From our spin on mild, hot, or honey BBQ to our homemade specialties like Roasted Garlic or Coco Chile, Buffalo Gill's has the gourmet wing sauces in stock to satisfy the sauce lover in everyone.

Headquartered in Baltimore, Maryland, we have built a reputation as a go-to wholesaler for some of the finest pizza shops or restaurants on the East Coast since 1997! On top of the excellent gourmet wing sauces we produce, we also make it a top priority to provide outstanding customer service, and our lengthy list of testimonials speak to our success at doing just that!

We ship our sauces directly to our distributors or retailers all over the East Coast and with a wide-range of interesting flavors of homemade wing sauces, there's never a shortage of options for those distributors to choose from. Our catalog is full of delectable homemade sauces, including four different types of BBQ sauce; Spicy, Hot & Spicy, Chipotle, and Honey. We also carry a wide range of sweet gourmet wing sauces, like our Honey Honey, Sweet & Sour, or Sweet & Tangy sauce. Whether spicy, sweet, or in between, our sauces aren't just awesome on wings! They go great on all kinds of foods, including chicken strips, pork, seafood, hamburgers, sandwiches, salads, and much more!

If you're yet to get your hands on our high quality homemade barbeque sauces, then don't wait another minute! Treat your customers to our many gourmet sauces by buying a case of them today. Our sauces are priced per case, and each case comes with four one-gallon bottles. Give us a call at 1-866-535-2834 or contact us today to place an order, and remember, we sell our delicious homemade sauces direct!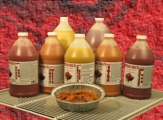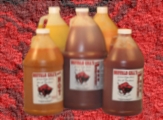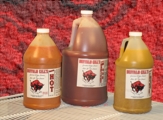 © . All Rights Reserved. Buffalo Gill's, Inc.