Buffalo Gills World Renowned Buffalo Wing Sauces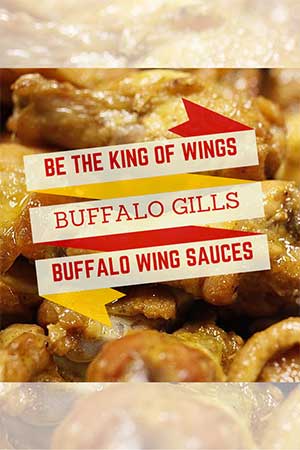 Are you looking for a tangy, sweet or garlic buffalo wing sauce? Many businesses like; pizza places, pubs, Grills or any number of restaurants use our sauces. For many of our customers we are the exclusive vendor and their wing orders have gone through the roof! Why? The gourmet taste is the best and they keep people coming back.
There are 21 great gourmet wing sauces featured on our home page with pricing up front and center. We are national and even have accounts in South America.
Is your restaurant in Maryland, Philadelphia, New York, Illinois, or South Carolina? If so, you're covered. Our best Buffalo Wing Sauces are on the rise in popular cities like Chicago, Virginia Beach, Sweetsboro, or Miami too!
Even though we have nationwide distribution our buffalo wing sauce, the penetration on a per state basis is very light. Our unique flavors are not easily accessible by the average customer. For this reason, our buffalo wing sauces will make your restaurant's wing orders stand out. Check out our catalog now to see what buffalo wing sauces that we have available. Don't know how to make the wings the Buffalo Gills way? We can train the staff at your restaurant on the best way to use our buffalo wing sauces!
Over the years, Buffalo Gills has had the opportunity to sell great buffalo wing sauces to a variety of businesses. With fast to delivery to many locations, we are the premier buffalo wing sauce provider for pizzerias, bar and grilles, or most any restaurant. We can also accommodate large orders from chain restaurants. We are the proud buffalo wing sauces supplier for 3 large national and international chain restaurants.
Here are just four of the unique gourmet wing sauces invented by Paul Gill:
Honey Bar-B-Que Wing Sauce Baltimore
Roasted Garlic Wing Sauce Texas
Chipotle BBQ Wing Sauce New York
Thai Chili Wing Sauce Michigan
Contact us to order your favorite wing sauce.